Courtly Companions: Pugs and Other Dogs in Porcelain and Faience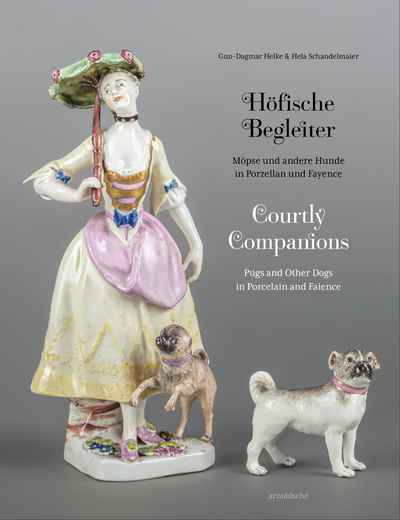 Hardback | Oct 2021 | Arnoldsche | 9783897906006 | 200pp | 280x220mm | RFB | AUD$108.00, NZD$130.00

Courtly Companions is a very special book for both enthusiasts of porcelain and dog lovers — and an enormous joy for all those for whom a passion for collecting and humour go hand in hand.
'Life without a pug is possible, but pointless,' as the German humourist and writer Vicco von Bülow, aka Loriot, is readily quoted as saying. Celebrity artist Andy Warhol too was a self-confessed pug enthusiast and took pleasure in being photographed with the diminutive dog. Yet long before it became a firm fixture in Pop culture, the pug enjoyed great popularity in high society.
Pugs held a very special place in the Chinese Empire, for example, and for a long time were kept exclusively at the empirical courts. From the sixteenth century on, they came to Europe, where they fulfilled an important role as diplomatic gifts. Two hundred years later they found their way onto the laps of noblewomen — and with them, into the portraits of contemporary rulers.
The love of these small, panting dogs was also reflected in porcelain and faience. Between 1740 and 1760 Joachim Kaendler, the most renowned modeller of the Meissen Porcelain Manufactory, alone created over sixty variants of pugs – standing, lying, scratching, and performing tricks. In one example, Kaendler portrayed the pug belonging to Count Heinrich von Brühl in a splendid one-off, but he also produced models for serial production.