Rivers of London
Rivers of London: 4-6 Boxed Set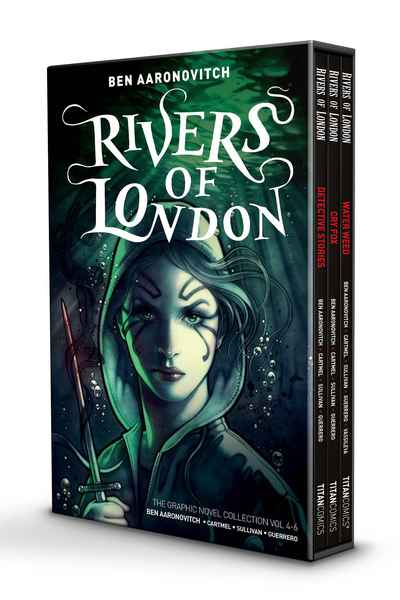 Paperback | Jan 2022 | Titan Comics | 9781787737419 | 384pp | 258x170mm | GEN | AUD$69.99, NZD$79.99


A stunning box set edition of three of the bestselling graphic novels in the Rivers of London sequence, starring Ben Aaronovitch's laconic trainee wizard and budding detective, Peter Grant. Includes Art Cards featuring the cover art from the individual graphic novels.
Detective Stories: An anthology series of stories featuring Police Constable Peter Grant, his partner, Sahra Guleed, and their associates, as they tackle supernatural crime on the streets of London! An all-new adventure for Ben Aaronvitch's laconic, way-past-cool but slightly geeky trainee wizard and budding detective, Peter Grant!
Cry Fox: Vengeful Russian mobsters are looking to hire members of London's own more-then-natural underworld to bring bloody retribution down on the witch Varvara. However, the ex-Soviet sorcerer is under the protective wing of London's own wizarding cop, Peter Grant (now a proper detective and everything), and to get the attention of Grant and his colleagues, the daughter of a prominent Russian oligarch is kidnapped by parties unknown but possibly fox-like.
Water Weed: Spring Breakers meets Lock, Stock and Two Smoking Barrels on the banks of the Thames in this new graphic novel from Ben Aaronovitch! When two of the less well-behaved River goddesses, Chelsea and Olympia, decide to earn a few quid on the side, Peter and Bev find themselves drawn into a sordid cannabis-smuggling operation, controlled by London's new queen pin of crime - the brutal and beautiful Hoodette!